Sea Buckthorn in the Spotlight
Tuesday, 23 May 2017 | Admin
Ingredient Spotlight
Sea Buckthorn (Hippophae Rhamnoides) is a very spiny shrub, native to sand dunes along the east coast of England, but planted in other areas to help stabilise dune systems, river banks and steep slopes (eight subspecies also extend from the Atlantic coasts of Europe across to northwestern Mongolia and northwestern China).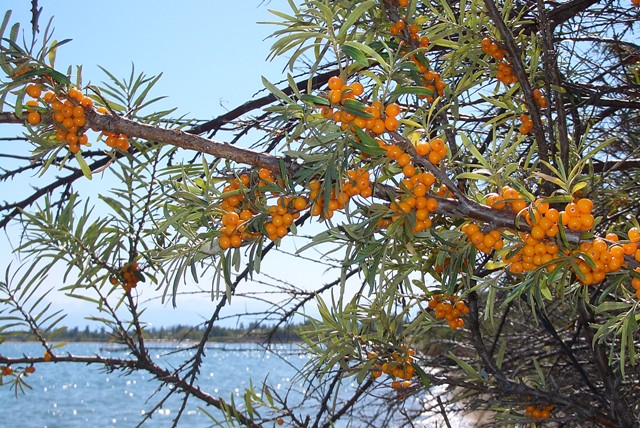 It forms dense thickets with thorny twigs and, although it has small green flowers, is most noticeable in the autumn when it displays an abundance of bright orange berries.
It is noted for its plentiful edible yet sour orange berries which are very high in vitamins and antioxidents (use in pies, preserves, sauces, juices, health- and skin care) and attractive delicate silvery foliage.
We love using Sea Buckthorn in our skincare products because it has been traditionally used for a wide range of skin ailments and is revered for its nourishing, regenerative, and restorative actions.
The pulp of the berries is a powerhouse, containing lots of vitamins (E, C, B1, B2, K), minerals, essential fatty acids and phytosterol.
Oil from the Sea Buckthorn berry is a deep red colour due to its high carotene (41 carotenoids found so far in seabuckthorn) content which includes valuable lutein, zeaxanthin and lycopene.
It as an exceptionally nourishing oil for dry skin and can help to promote the regeneration of skin cells, reduce age-induced skin wrinkling and premature skin ageing.
We are using Sea Buckthorn in our award winning Moisture Boost Serum which also contains Coenzyme Q10 and other valuable ingredients that are fabulous for dry and mature skin.
If your skin needs even more nourishment because it is dry, flaky, environmentally stressed and dull looking, we highly recommend our award winning Super Nourishing Face Balm which also contains Sea Buckthorn and oils and butters that are easily absorbed yet are wonderfully nourishing and soothing.
Your skin will thank you, looking soft, calm and glowing again!