Test Results for our Face Serum - gathered and ready for you!
Friday, 7 August 2015 | Admin
Thank you so much for your help, enthusiasm, encouragement and time - we have now accumulated the test results for the 'Moisture Boost Serum' for dry and mature skin from 16 lovely test ladies and we can say with confidence that the results are very good and exceeded our expectations by far! :-)

So what does this mean? You know that we have been asked so many times for a product which is particularly suited for dry and mature skin and we always absolutely love and embrace finding a perfect solution for you.

Well, we put our thinking cap on, drafted, formulated, tested over and over again until we came up with a Serum that we were happy with. But of course it had to be tested by people with those particular skin care needs.
Now that the results are available and the feedback is so wonderful, we will finalise the last steps and are excited to say that we are looking into LAUNCHING this particular product very soon!
A little description of the Moisture Boost Serum
Lovely, luxurious and nourishing Moringa Seed Oil, Borage Seed Oil, Argan Oil, Rosehip Seed Oil, Co-Enzyme Q-10 and Plant Extracts. It is a very fine textured product with a slightly herbal aroma mixed with Orange Blossom, which is particularly well suited for DRY and MATURE skin with fine lines and can be used day and/or night time. It will plump the skin and make it look healthy and well moisturised
A few great quotes from the test ladies

'It's been a joy to use, unlike some serums I've attempted to use in the past which haven't absorbed at all well. It's not at all 'sticky' and just glides on and absorbs almost immediately - quite amazing really.'
'My skin feels plumped up in the morning and feels extremely, fabulously soft. am using much less daily moisturiser in the morning. I found reduction of redness on my cheeks and chin. The moisture my very dry and mature skin received from this serum is truly noticeable and the moisture seems to hold well all day, even with just night time use.''I really do love this face oil!! The smell is gorgeous and reminds me of the days when I had facials, before I became aware of all the nasty chemicals in most products. The oil is absorbed very quickly with no need to blot. I use it morning and night with no need for my usual moisturiser which I find amazing. My skin feels and looks much better, I seem to have a glow which again is amazing as I am not getting much sleep at the moment. I am looking forward to purchasing!'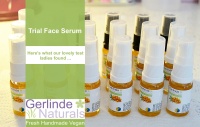 *please contact us, if you prefer the file in a different format*