Product Advice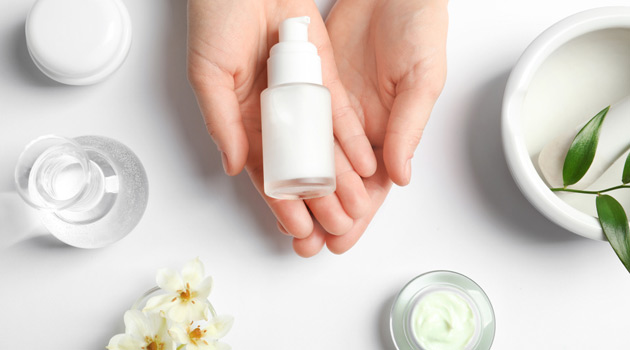 Storage of skin care products
Gerlinde Naturals products are freshly prepared in very small batches on order and carry a 'best before' date for guidance. Refrigeration is not necessary (yet Hydrosols might benefit), but storing away from heat, keeping products out of direct sunlight (window sills) and closing lids fully after use will maximise the products' shelf-life.
Use of products
My products are made with naturally derived ingredients and are for external use only. Not to be used around eyes (unless stated otherwise), mucous membranes or broken skin. If you are uncertain about possible sensitivity, always do a *patch test before use. If irritation occurs discontinue use. Products must not be used by children under 36 months.
*How to do a Patch Test: Dab a small amount of product on the inside of your elbow or wrist. Leave the preparation unwashed for 24-48 hours. Watch for typical signs of an allergic reaction, which could include redness, itchiness, swelling, blistering, weeping, flaking, etc. If any of these signs present themselves, cease use and gently rub off the skin care product using cool water only. Pat the area dry with a towel. If there was no skin reaction, the product is safe to use on your body or face.
Advice on Essential Oils
In the following article I will give you some advice on the safe use of pure Essential Oils.

All of my skin care products contain a safe (safety assessed by a Cosmetic Chemist) and minimal amount of Essential Oils as an addition to creams and oils for their therapeutic properties, but I would suggest if you are in doubt using any of the skin care products, to do a patch test in the crook of your elbow first (see *above).
Since I hand blend all products on order, I can produce your skin care products without fragrance/essential oils. You can simply leave a little note at checkout or choose a fragrance free option of the product where applicable.

You should still take care and consult with your GP or aromatherapist whether certain Essential Oils are ok to use for you, if you have any of the conditions below:

If you have epilepsy avoid: BASIL, CAMPHOR, CINNAMON, CLARY SAGE, EUCALYPTUS, FENNEL, HYSSOP, PEPPERMINT, ROSEMARY, YLANG YLANG, HO LEAF
If you have kidney problems avoid using JUNIPER BERRY, INDIAN DILL, PARSLEY LEAF, PARSLEY SEED
If you have low blood pressure avoid using LAVENDER, MAY CHANG & SWEET MARJORAM.
If you have high blood pressure avoid using ROSEMARY, THYME.
If you have had ovarian, uterine or breast cancer AND are on HRT avoid using FENNEL, GERANIUM & ROSE

Never use any essential oils in the FIRST 3 MONTHS OF PREGNANCY. After that some oils may be safe, please consult your Aromatherapist (try to avoid Rosemary, Rose, Juniper, Nutmeg, Basil, Jasmine and Sage).

Never ingest any essential oils.

Never sunbathe after applying certain essential oils to your skin as this may accelerate sunburn.

The most phototoxic (phototoxic means the oil will accelerate sunburn) oils are FIG LEAF ABSOLUTE, TAGET, VERBENA ABSOLUTE, BERGAMOT, CUMIN, LIME (EXPRESSED), ANGELICA ROOT, RUE, OPOPONAX, ORANGE (BITTER, EXPRESSED), LEMON (EXPRESSED), GRAPEFRUIT (EXPRESSED).
Yet the following Citrus Essential Oils are NOT phototoxic
LEMON (DISTILLED), LIME (DISTILLED), MANDARIN (EXPRESSED), ORANGE (SWEET, EXPRESSED), TANGELO (EXPRESSED), TANGERINE (EXPRESSED), BERGAMOT (BERGAPTEN FREE), LEMONGRASS
Alcohol should be avoided for 12 Hrs after using CLARY SAGE, As it can cause disturbing nightmares/hallucinations.
Allergies
Cosmetics, personal care products and medicines - Some of the questions asked by people with food allergies
You can also download the PDF factsheet HERE
This is a Factsheet written by the 'Anaphylaxis Campaign', the only UK wide charity to exclusively meet the needs of the growing numbers of people at risk from severe allergic reactions (anaphylaxis) by providing information and support relating to foods and other triggers such as latex, drugs and insect stings. The focus is on medical facts, food labelling, risk reduction and allergen management. The Campaign offers tailored services for individual, clinical professional and corporate members. Visit the website www.anaphylaxis.org.uk).
The content of this fact sheet has been Peer Reviewed by Dr Michael Perkin, Senior Lecturer & Honorary Consultant in Paediatric Allergy, St Thomas' Hospital, London; Dr Anna Murphy, Consultant Respiratory Pharmacist, University Hospitals of Leicester NHS Trust, Glenfield Hospital, Leicester; and Dr Michael Radcliffe, Consultant in Allergy Medicine, University College London Hospitals NHS Foundation Trust. Dr Joanna Lukawska, Clinical Research Fellow and Specialist Registrar in Allergy at the Department of Asthma, Allergy and Respiratory Science at Guy's and St Thomas' Hospital, London
'Allergens'
I would like to quote Susan M. Parker (Power of the Seed) who wrote one of my reference books about Oils for Health and Beauty. She says the following about Allergens:

'Allergens are substances that produce sensitivities in some people but are not toxic to the population as a whole. All substances, including oils, can potentially possess allergenic properties. A friend with a severe coeliac condition can barely stand to look at my bottle of oat seed oil, never mind removing the lid and smelling or handling it. She had no desire to experiment on any level. Wheat germ oil could also be an allergen for a person with such a condition. Nuts are allergens to many people and the oils can be as well. Peanut, primarily but also almond, hazelnut, pecan, brazil nut and others can cause mild to serious reactions in those who are sensitive. Mangos, from the same botanical family as poison oak, are allergens for some people. In addition, allergenic properties can be present across a species. The butter from mango seeds can cause sensitivities for those with a mango allergy, as can marula and pistachio oils, which share the same botanical family. Rubber trees and shea trees share a similar botanical family and individuals who are allergic to latex can also be sensitive to shea butter. The importance of labelling all ingredients cannot be overstated. That keeps the public informed of possible complications to themselves, friends, or family members. However, people can also react to an ingredient or combination without knowing they are in fact allergic. If an allergen is known, it can be avoided with proper labelling, but sensitivities do occur where they haven't manifested in the past. No one product or combination will work for everyone, but with awareness of the problem something can be found to work for almost everyone.'



*All GerlindeNaturals products are stability and microbiologically tested and certified by a cosmetic chemist with a Cosmetic Product Safety Report which conforms to EU Cosmetic Regulations 1223/2009