About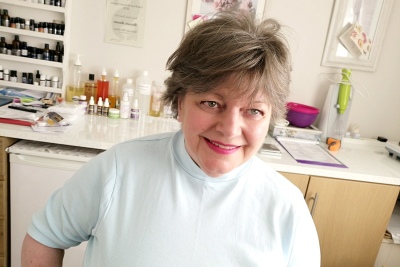 'I am a holistic lifestyle enthusiast, with a big passion for plants and I also have super sensitive skin, that's why I initially started to formulate a selection of plant based skin care products that encourages the skin to perform at its best.
In 2012 I gathered all my courage and launched my independently certified skin care company Gerlinde Naturals, sharing not just my vegan skin care creams and face oils with you but also my love for a more natural, gentle and healthy lifestyle. I now run my company single-handedly as a small business from my home-based studio and office in rural Lincolnshire.
Fuelled by my passion for nature and ethical values I formulate and lovingly hand blend my vegan skin care and also carefully dispense and wrap all finished products in attractive eco-friendly and sustainable packaging.
My award winning skin care range comforts your skin with pure earth-derived botanical ingredients, especially developed for sensitive skin and enhanced with some amazing pro-ageing ingredients.
I am looking forward to welcoming you to the Gerlinde Naturals family
Gerlinde xx
MADE BY HAND ON THE DAY OF YOUR ORDER TO GUARANTEE FRESHNESS
You and your skin are at the heart of my small business, that's why I like to manage my natural skin care company in an oversee-able family run environment where I make sure that all steps from production to shipment are kept bespoke and with a unique personal touch. It's an absolute joy to get to know you as a customer, learn about your skin care favourites, your skin worries and help you whenever you need advice.
In my small business environment I have also the advantage of being more flexible, move more swiftly and react faster to market demands than big companies. I took exactly this advantage and developed one segment into a Unique Selling Point that I found very important in the natural skin care world, yet is rather unusual and challenging in a very positive way - producing on order.
Why I produce on order? Because in any formulation there are so many precious natural, active extracts and botanicals involved, that it's vital to keep them in their best, freshest condition.
This is exactly the reason why I decided to hand blend all products with lots of love and attention to detail as and when I receive your order, from scratch. Right there – you send your order – I receive it in my online shop and straight away prepare everything in my studio and get working on your order, with a general turnaround of about 2 to 3 working days. I believe strongly that you deserve your natural and vegan product as fresh and 'active' as possible
'Thank you again for your great products! I loved every single one of the ones I got last time! As always, they helped my sensitive skin SO MUCH! Thank you for staying true to your clean, ethical, and effective products!'
Ale G., USA
ALSO AVAILABLE FRAGRANCE FREE
All my products are natural and contain a mixture of plant based essential oils (aromatherapy oils like neroli, frankincense, rose, geranium, etc.) which aids the effectiveness. Essential oils when mixed with the required knowledge, also evoke a sense of well-being and smell delicious.
Nevertheless some of my customers have hyper sensitive skin or do not like any kind of scent in their products, so I made sure to offer you an essential oil (fragrance) free version of every product in my skin care range.
If you would like to know the exact ingredients of my products, you will find them listed on every single product page, including the botanical and full English name.
100% VEGAN - CRUELTY FREE
I strongly support animal welfare and therefore don't use ingredients from animal sources (beeswax, lactic acid, retinol, lanolin, etc.). I also regularly support the Lincolnshire Wildlife Trust.
eco friendly - sustainable - recyclable
I use beautiful recyclable and re-usable, jute/cotton bags from British companies, recyclable glass jars and bottles. The outer packaging is also recyclable and I am re-using my suppliers packaging/cushioning materials when posting products to you.
I CAN REASSURE YOU THAT YOU ARE GETTING THE BEST QUALITY BECAUSE ...
every single product is also stability and microbiologically tested and certified by a cosmetic chemist with a Cosmetic Product Safety Report which conforms to EU Cosmetic Regulations 1223/2009 (see more information at the end of this page *)
CAREFULLY SOURCED, PUREST PLANT BASED INGREDIENTS
I very carefully source my ingredients and I also take greatest care in the production process, so that important components like vitamins, minerals, essential fatty acids and high performance active ingredients in plant extracts, keep their full effectiveness.
BUY AND EXPERIENCE WITH CONFIDENCE
I can also offer more than 500 Five Star ***** reviews from happy customers around the world. Reviews can be found directly linked to each individual product.
AWARDS

• Bronze Award FreeFrom Skincare 2015 for our Rejuvenating Body Lotion with Arctic Blackcurrant Extract
• Platinum Winner for the Best Night Cream in the Janey Lee Grace Awards 2015 - Skin Recovery Night Cream
• Bronze in The Green Parent Natural Beauty Awards 2016 for the Moisture Boost Serum
• The Moisture Boost Serum is a winner in the Janey Lee Grace 'New for 2016 Platinum Awards - The Best of the Best New Natural Products
• Super Nourishing Face Balm is an Award Winning Product in the JANEY LOVES 2016 Platinum Awards in Association with the UK Health Radio
• Beauty Shortlist Awards 2017 'Editor's Choice' for our Avocado Hand Therapy Cream
• Silver in The Green Parent Natural Beauty Awards 2017 for the Avocado Hand Therapy Cream
• Winner of the Beauty Shortlist Awards 2018 for Best Face Balm for very dry skin - Super Nourishing Face Balm
• Bronze Award Free From Skincare 2018, category Face Care (wash off) for your Cleansing Cream
• Beauty Shortlist Awards 2019 'Editor's Choice' for our Revive Elixir
*All Gerlinde Naturals products have been professionally formulated and additionally are certified for safe use by a qualified Chemist as required by current legislations to legally produce and distribute natural skin care products.
Please make sure that your natural or natural and/or organic skin care supplier holds a Cosmetic Product Safety Report/Certificate (CPSR). This is a legal requirement for everybody who produces skin care products within the European Union, this also includes micro businesses who display and sell for example on market stalls at farmers markets, Christmas fairs, etc. This ensures that you are receiving a product which is fit for purpose, adhering to cosmetic guidelines, packaging and hygiene standards to avoid contamination and health issues.
Skin care producers must comply with European Cosmetics Regulation 1223/2009, which came into force on 11 July 2013. The regulation requires us to notify the European Commission (ECAS / CPNP) of every single product formulation that gets released onto the market.
Gerlinde Naturals is a member of the Guild of Soap and Toiletry Makers
It is not generally known that in order to legally sell a crafted soap or toiletry product within the European Union that it must meet legislative guidelines. The reason for this is public safety. The same legislative standards applies to imported products. The legislation in question is the Cosmetics Products (Safety) Regulations and it is legislation in force within the European Union. A major reason for the existence of the Guild is to raise awareness of the Cosmetics Products (Safety) Regulations. The legislation sets standards. It aims to ensure that every ingredient in handcrafted soap and toiletry products is safe to use. Some ingredients are banned because they've been found by scientific testing to be potentially harmful. Other products are banned or restricted because they are potential allergens. The aim of the legislation is to protect the general public and the craft soap and toiletry maker.