Facial Massage Tips for Eye Care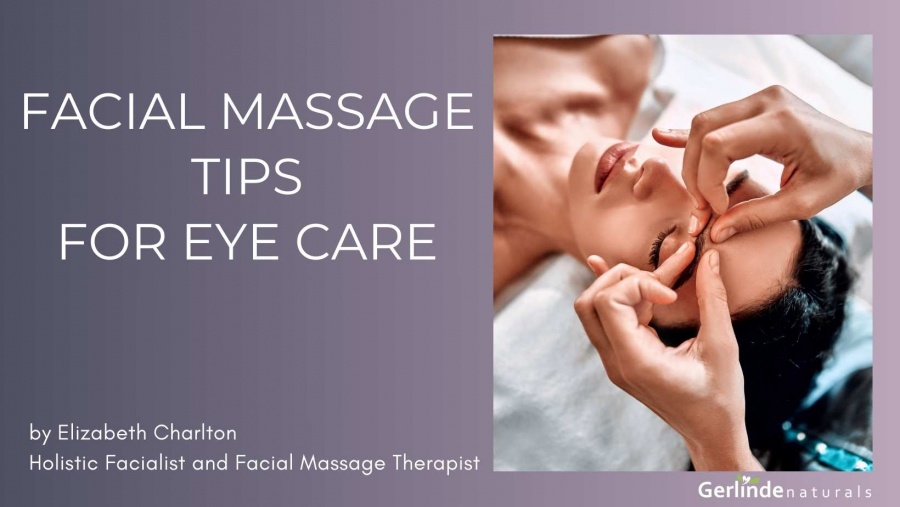 They say the eyes are the window to the soul, but what if you are feeling tired or if there is some tension?
Get that sparkle back and release eye strain with some easy facial massage for eye care.
Start at the beginning of each eyebrow, gently pinch and hold for a moment and then repeat whilst moving along the rest of each eyebrow.
Gently grasp the skin on either side of the eyebrow and roll it between your finger tips. This helps to release tension around the corners of the eyes.
Place your index fingers by the ends of your eyebrows, you should feel a little dip with your fingers as you move slightly past your orbital bone. Press the pads of the fingers inward slightly as you lift the skin upwards and hold for five seconds before releasing. Repeat three times, this helps to release restrictions around the outer corner of the eyes.
ARE YOUR EYES FEELING PUFFY?

You may not expect it, but massaging behind the ears can help!
Place the fingertips of your index and middle fingers behind your ears and massage in gentle circular movements. This is very relaxing and can help decongest any lymphatic build up that can lead to puffiness around the under eyes.
Use your index fingers of each hand and place them either side of your nose, where you can feel the inner corner of your orbital bone. Working outwards from the inner corner of the eye, make small circular movements around the eye socket to the outer corner of the eye and back to the corner of the eye.
HOW TO HELP WITH EYE STRAIN WHEN WORKING
Place your elbows on the table. turn the palms of your hands to face you. Place your hands over your eyes so the bottom of your palm rests on your orbital bone. take your heads weight and press and roll your hands outwards to your temples.
EASY EYE COMPRESS
Cooled green tea or nettle bags work well to cool, soothe and depuff the eyes. Especially nice when your eyes feel strained and tired.
Any of these massage moves can be done with or without an oil.
I recommended utilising this time by applying a small amount of an eye serum or cream beforehand.

I use the Argan Eye Serum before an eye massage sequence in my facial treatments. It's a wonderful antioxidant rich treatment to use around the eyes. Fabulous as a night treatment and also when lightly tapped under the eyes to prep the skin for concealer (just let the oil sink in first, it's great if you are finding concealer can be a bit drying).

Elizabeth Charlton, Hada Holistic Skin Therapies
ARGAN EYE SERUM