How to layer your Skin Care Products - The Night Routine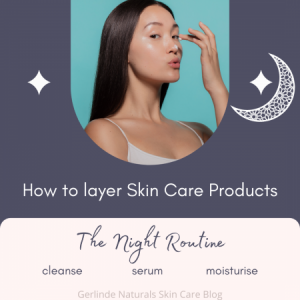 It is easy to get overwhelmed with the amount of skin care products available and especially in what order to apply them. But with this simple layering guide you can make sure to get the most out of your skin care routine
In my previous
Morning Routine post
I mentioned that skins do far better with fewer products, this is also true for the Night Time Routine but the main point of your evening routine is to help your skin help itself. Repair and correct.
As an additional note I want to emphasise that exfoliants or peels should be used at night time, as they can make your skin very sun sensitive.
Please, never mix acids like BHA or AHA in the morning or evening routine! Combined they can cause irritation.
Below I am listing ALL products that can be used for your night time routine, in their right order:
Take the time to remove your Makeup and/or SPF with a deep cleanse.
Double-Cleanse if possible with an oil-based Cleanser ie Cleansing Oil/Cleansing Balm first and follow with a water-based Cleanser ie Cream Cleanser.
A Cleansing Oil clears the skins' surface, drawing out oil-based dirt such as oxidized sebum, old skin cells, daily build up from pollution and make-up, before advancing deeper into the pores with a Cleansing Cream which makes sure your skin gets really clean, balanced and comfortable and removes traces of the oil cleanser. It prevents skin dullness, allows the skin to breathe and repair and absorb moisturisers, retinols and serums much better.

​I explain Double Cleansing in more detail in my blog post
https://www.gerlindenaturals.com/blog/double-cleansing-method.html including tips on how to apply these products best.
A good Oil Cleanser and Cream is far more gentle and nourishing on your skin and suit ALL skin types. Your skin will definitely thank you.
Use face cloths or flannels with your Cleansing Oil or Cream.
Please NO makeup remover wipes, they mainly just move make up and dirt around and on top of it, they are not environmentally friendly either!
A foaming Face Wash can be far too harsh and drying on your skin.
Micellar Waters are for the "quick" cleanse.


Exfoliants or Clay Mask

- be careful not to use too often as these products can irritate sensitive skin. Use once or twice a week max, for example my

French Pink Clay Face Mask

Toner

to remove cleansing routine residues and give your skin an additional moisture and anti-oxidant boost (choose product accordingly) -

Soothing Toner

Anti-oxidant rich with Aloe Vera, Green Tea and Pomegranate Extract

Acid Treatments - AHA, BHA, (Glycolic, Salicylic, Lactic Acid). Be careful not to mix products containing these acids in one routine, especially when you have sensitive skin.


Serum - a lightweight product containing for example Hyaluronic Acid, Peptides and Anti-Oxidants OR a Serum containing Glycolic/Salicylic/Lactic Acid, but if you do this skip Step 4!


Spot Treatment - To topically treat bad acne spots you can use benzoyl peroxide but please go easy! It can penetrate the pore and kill off the bacteria specific to acne, but I would suggest the acids in the step above. Sulfur is very commonly used too: just a word of warning – both can be drying to the skin in high %.



Eye Cream

or if you suffer from puffy eyes, use a Serum or Gel

Night Cream/Moisturiser - Whether or not you use a night-time moisturiser is dependent on what treatment you use. If your treatment is in your moisturiser, you don't need any more. If you are using a lovely night-time oil you may not want anything else.


Occlusive Face Oil

or Face Balm to seal in all the ingredients and moisture you just have applied to your face.

If you are new to Face Oils, start using them by mixing a few drops with your moisturiser - use for example my

Revive Elixir with Cacay Oil

containing natural Retinol.

Some people might not like to go to sleep with heavier products on, so you could use a Sleep Mask instead.
Join me over at my new Facebook Skin Care Chatroom
https://www.facebook.com/groups/gerlindenaturals
where I open up the dialogue around skin care and offer a way to post your question/ results/ experiences/ ideas and anything that might interest you about natural or botanical skin care in a friendly and welcoming environment.
I am always happy to delve into my 15 years+ experience in the skin care industry to answer your questions as best as I can.
Gerlinde x