How to layer your Skin Care Products - The Morning Routine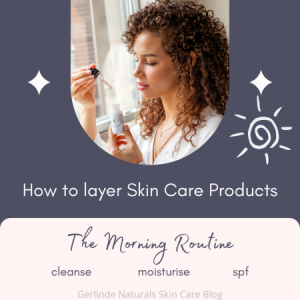 Over at my new Facebook Skin Care Chatroom https://www.facebook.com/groups/gerlindenaturals and also Newsletter I have asked people what they'd like to know more about when it comes to Skin Care.
4 topics stood out
I'd like to hear more about Natural Skin Care alternatives
Ingredient descriptions and how to read labels
How to layer products
I would like Product suggestions for different skin types
I thought I'd use my expertise and practical experience of more than 15 years in the skin care industry and make a start with skin care layering **The Morning Routine**, as the order in which to use your skin care products can be a little confusing but can also make all the difference to the way they absorb and work.
It really is a great topic and is worth discussing even more in detail - I am happy to answer any questions you may have on the basis of my following guide.
SKIN CARE LAYERING - THE MORNING ROUTINE
First of all - please don't worry too much, you honestly don't need an all singing and dancing 9-step skin care routine in the Mornings to make your skin look its best. You can pick and choose from the basic cleanse-moisturise-spf steps and use the products that sit right with you, the ones that your skin type needs and also make you feel good and don't interfere too much with our already busy lives.
Most skins do far better with fewer products anyhow, so if you're just starting out, keep it simple: cleanser, moisturiser, sunscreen. That's it. Three products.
If you want to introduce 1 or 2 more products, introduce them slowly to find out if they irritate or if they do what you expect them to do.
Just a word of caution: Please, never mix acids like BHA or AHA in the morning or evening routine! Combined they can cause irritation.
So here we go, for the Morning Routine I am listing ALL products that can be used in their right order
Cleanser (oil-based ie Cleansing Oil or water-based ie Cream Cleanser) please NO makeup remover wipes, they mainly just move make up and dirt around and on top of it, they are not environmentally friendly either!
A foaming Face Wash can be far too harsh and drying on your skin. Micellar Waters are for the "quick" cleanse.
A good Oil Cleanser or Cream is far more gentle and nourishing on your skin and suit ALL skin types. Your skin will definitely thank you.
Use face cloths or flannels with your Cleansing Oil or Cream.

Toner (alcohol free)

What you're looking for is mists that contain things like Hyaluronic Acid and Glycerin. They calm the skin, absorb nicely and act as a conductor for the products that follow.

A good gentle exfoliating toner with hydrating properties (Hyaluronic Acid, Glycerin) and calming Aloe Vera is ideal

https://www.gerlindenaturals.com/TONER-Soothing.html

Serum, ie a light hydrating Hyaluronic Acid Serum

Eye Cream

Spot Treatment

Moisturiser depending on skin type, this could be with Hyaluronic Acid (also good when your skin is very oily) or simply a good Vitamin C moisturiser

Face Oil (Face oils are occlusive, meaning they seal in all the ingredients and moisture you just applied to your face to keep them from evaporating as quickly).
If you are new to Face Oils, start using them by mixing a few drops with your moisturiser.

Sunscreen SPF30 and above, broad spectrum - A moisturiser with added SPF will not benefit the skin as much as two separate products will. Don't forget to apply on neck and ears.

Makeup
Happy to answer any questions you might have!