How to read a Cosmetic Label - The Ingredient List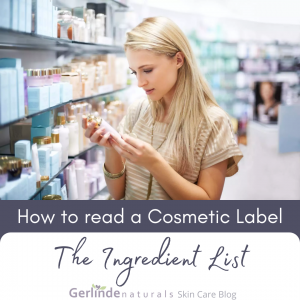 Through a survey that I released a while ago, I found out that you, as a customer, want to learn more about how to read cosmetic labels.
It is a very interesting and varied topic which can be quite confusing with terms that sound like something straight out of a chemical science book but learning how to decipher them can make all the difference to your skin. Reading labels is just as important for skin care products as it is for food.
Trying to demystify the topic a little, I sat down and wrote my first instalment on how to read a cosmetic label.
Cosmetic Product labelling includes various information, but one of the most important parts of the labelling is definitely an ingredient list, which informs the customers about product composition.
By law, all cosmetic products sold in the UK (and most other countries worldwide) must display a COMPLETE ingredients list.
Ingredient labelling helps users to identify products with ingredients to which they know they are allergic. Ingredient names must by law also use the International Nomenclature of Cosmetic Ingredients, known as INCI.
INCI means that in whatever country a cosmetic product is bought, the ingredient names will be the same.
Although the names sometimes appear complicated, this is necessary to precisely identify each ingredient and the name is usually simpler than the chemical or botanical name.
An ingredients (INCI) list should always appear in the same format:
It should be headed by the word INGREDIENTS

Ingredients should be listed in order of weight in the product

Perfume mixtures are labelled as "parfum" except for certain specific perfume ingredients which are listed by INCI name

Flavours, such as in toothpaste, may be listed as "Aroma"

Colours use the Colour Index Number, or CI Number, an international naming system, for example "CI 15580"
For products that are small and difficult to label, there are special exceptions. Here the ingredient listing may be on a leaflet or outer packaging. Alternatively, the ingredient listing should be displayed close to where the product is offered for sale.

Confused by a long, technical and maybe scary sounding ingredient? Science-y sounding words aren't necessarily a bad thing.
Sodium ascorbyl phosphate? That's actually the formal name for Vitamin C or Tocopherol, this stands for Vitamin E.
Plant ingredients are easy to spot because they are listed with their Latin names (always two words) and a common name in brackets, eg Rosmarinus Officinalis (Rosemary) Oil, which is Rosemary Essential Oil or Helianthus Annuus (Sunflower) Seed Oil, which is Sunflower Oil.
At the end of an INCI list you will find the allergens listed.
These allergens are constituents of natural essential oils or synthetic fragrances. There are 26 possible allergens including geraniol, limonene and linalool.
Often companies mark with an asterisk or in italics which ingredients are essential oils allergens. It is worth becoming familiar with the common allergens as to the untrained eye these allergens can look suspicious.
Aqua (Water), Prunus Amygdalus Dulcis (Sweet Almond) Oil, Sucrose Laurate, Camellia Oleifera (Camellia) Seed Oil, Oenothera Biennis (Evening Primrose) Oil, Butyrospermum parkii (Shea Butter), Glycerin, Cetyl Alcohol, Sodium Ascorbyl Phosphate, Alpha Tocopherol, Prunus Armeniaca (Apricot) Kernel Oil, Aloe Barbadensis Leaf Extract, C12-15 Alkyl Benzoate, Tocopheryl Acetate, Ubiquinone, Phenoxyethanol, Ethylhexylglycerine, Xanthan Gum, ++ following ingredients are not evident in the fragrance free version: Citrus Sinensis, Citrus Limonum (steam distilled), Vanilla Planifolia (Vanilla) Fruit Extract, *Linalool, *Limonene, *Citral (occurs naturally in Essential Oils)++
To find the most popular ingredients you can use the INCI Decoder
website
https://incidecoder.com/
to decode skin care ingredients fast with science-based but easy to understand explanations.
You can also search for the Chemical Maze App on your phone via App Store or Google Play.
Please join me over at my new Facebook Skin Care Chatroom
https://www.facebook.com/groups/gerlindenaturals
where I open up the dialogue around skin care and offer a way to post your question/ results/ experiences/ ideas and anything that might interest you about natural or botanical skin care in a friendly and welcoming environment.
I am always happy to delve into my 15 years+ experience in the skin care industry to answer your questions as best as I can.
Gerlinde x