The daily routine in Asia for centuries
There is a saying: If you spend 15 minutes applying your make-up, you should spend 15 minutes removing it.
Since we use long lasting lipsticks and long wearing foundations, we need to pay particular attention to removing those thoroughly so we don't cause any pigmentation and skin dullness.
The Double Cleansing Method entails a 'deep clean', clearing the surface, drawing out oil based dirt such as oxidized sebum and make-up, with an oil based cleanser (like attracts like and the skin does not get stripped of its natural oils either), before advancing deeper into the pores with a water based cleanser to remove dust and sweat.
With this gentle and thorough cleanse your skin feels smooth, is less prone to breakouts and can absorb serums and moisturisers far better.
Here are our tips on how to give yourself a relaxing and enjoyable facial
Including the double cleansing method and what products you can use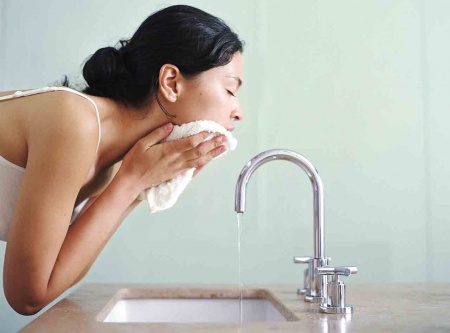 Step One of the Double Cleansing Method
Massage a good Oil Cleanser into your skin (never rub!) and always use little circular upward motions
1) Warm a few drops of cleanser between your hands and apply to cheeks, forehead, nose and chin
2) Spread the cleanser in small circular motions from the chin towards the ears

3) Place your fingers on the inner corners of your eyes and spread cleanser over cheeks towards temples in upward movements
4) Massage cleanser with fingers from tip of nose to the bridge, to the forehead, gently cleanse both sides of nose
5) Don't forget to work the cleanser in around the mouth
6) Spread cleanser outward from the middle of the forehead in little circular motions
7) Place a warm, damp soft Cotton Cloth on your face for about 1 minute (this will open your pores and prepare for the next step to remove even more build up). Remove the cleanser with the same Cotton Cloth.
Step Two of the Double Cleansing Method is used to advance deeper into the pores and remove make-up residue, oil cleanser residue, dead skin cells, dust and sweat.
Use a small dollop of Creamy Cleanser and work your way around your face like in steps 2) to 6). Remove the Cleanser with another warm, damp Cotton Cloth. Finished!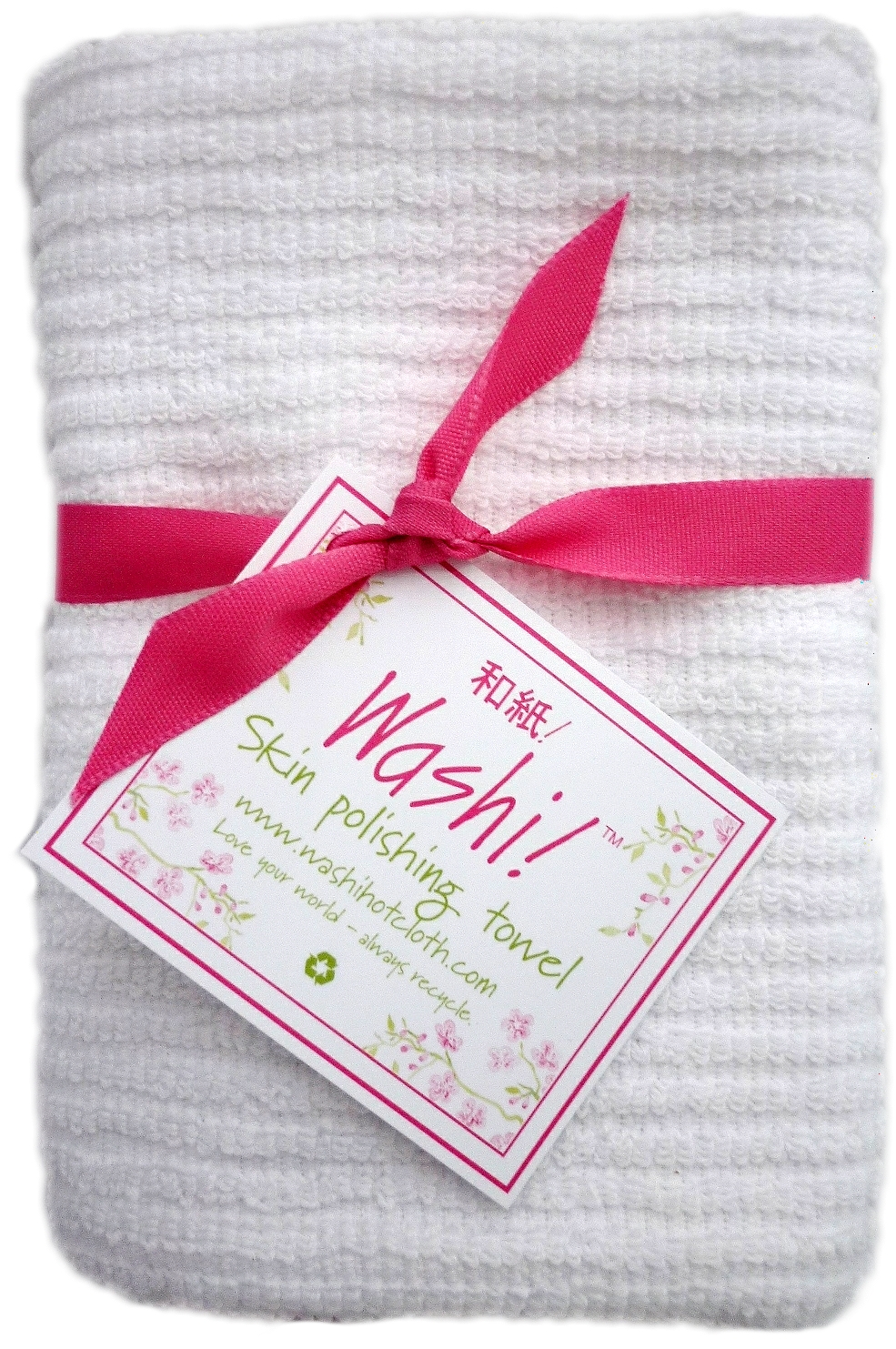 Here is an additional Tip if you also want to incorporate gentle exfoliation into your routine:
Exfoliating is according to beauty experts the key to acquiring a fresh lively complexion that is so smooth it allows make-up and tanning products to glide on and blend perfectly. The Washi! Skin Polishing Towel will help you achieve your best complexion yet - even without products or chemicals. It has a unique texture which feels very comfortable on the skin, and is the perfect follow up to daily hot cloth cleansing regime.

To use: After cleansing, splash face and neck with water. Gather up a section of the dry towel and polish your dampened skin. Work all around the face and neck using light circular motions. Keep re-wetting your skin and buffing till dead skin cells are removed revealing fresh skin underneath. The Skin Polishing Towel gives excellent results on most skins - from normal to oily, but the results on dull, dry and flaky skin are very impressive!
We recommend finally re-dampening skin either with water, toner or skin prep lotion and applying toner and moisturiser immediately, particularly for dryer skins.